GreineR Bio-One® Microplates
A wide selection of economically priced, high quality microplates to meet your specific application needs.


Quality design and manufacturing
Black Dog is a proud distributor of quality Greiner Bio-One® laboratory products. Our wide selection of products includes the full range of Greiner Bio-One microplates, including 96-well, 384-well, and 1536-well microplates for high-throughput screening applications, available in a variety of materials, well designs and surface treatments.
Greiner Bio-One GmbH has been developing and producing microplates for decades. Greiner Bio-One microplates are used worldwide in diagnostic and research labs. Microplates for high-throughput screening (HTS) provide fast, automated analysis of a multitude of substances for drug screening. This high level of efficiency helps to ensure the successful development of new drugs. An innovative leader in this sector, Greiner Bio-One continually develops new technologies to meet its customer needs; for example, one of the more recent developments are non-binding microplates. By repelling protein, these surfaces optimize the biochemical screening for active substances, Greiner Bio-One works closely with customers to ensure that their products continually meet their needs.
Greiner Bio-One Microplates Feature:
Manufactured under DIN ISO 9001 guidelines
Traceability back to production through a defined LOT number system
Footprint compatible with automated systems
Free of detectable endotoxins (0.03 EU/ml); regularly tested using FDA-approved kinetic turbidimetric LAL-test (Limulus Amoebocyte Assay)
Analyzed for detectable DNase, RNase and human DNA
Manufactured without the use of silicon-based mould release
Free of biozides and antistatics
Manufactured out of raw materials tested for leachables
Barcode-labelling on request
SAVE on Lab Consumables!
Black Dog provides the highest quality laboratory consumables at exceptional prices, so why not give us a try? Tell us about your microplate requirements and we'll put together a cost-saving quote to meet your needs. Learn more about our quality microplates below and then talk to a Black Dog representative. Complete our contact form and we'll be in touch within 24 hours.
A wide selection of Greiner Bio-One Microplates to meet your application needs: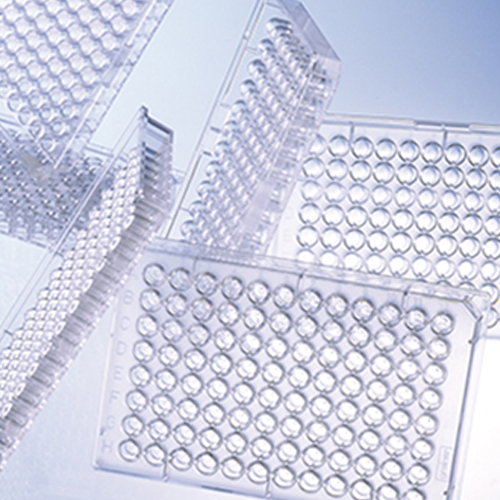 96-Well Microplates
Greiner Bio-One has been manufacturing microplates for over 30 years. We offer a full range of Greiner Bio-One 96-well microplates in a wide variety of surface treatments. Like all Greiner Bio-One microplates, 96-well microplates are:
Manufactured under DIN ISO 9001 guidelines and can be traced all the way back to production through a defined LOT number system
Footprint compatible with automated systems
Endotoxin-free (– < 0.06 EU/ml) and regularly tested using an FDA-approved turbidimetric LAL-test (Limulus Amoebocyte Assay)
Tested by an independent laboratory in a quantitative PCR and are free of DNases, RNases, human DNA
384-Well Microplates
Drug screening has undergone rapid development over the past few years. The number of tests with new targets and the number of active agents to be tested is constantly increasing. High format microplates with a low well volume are one of the most important tools for achieving top priorities such as volume reduction, simple testing and cost savings. One of the first higher format microplates was the 384-well plate launched by Greiner Bio-One in 1994/1995. The external dimensions of the 384-well microplates are compatible with standard equipment and automated systems. Black Dog offers a variety of Greiner Bio-One 384-well microplates, including black and white clear bottom plates (μClear® ), in FLUOTRAC® , LUMITRAC™, MICROLON® , CELLSTAR® , UV-Star® or non-binding quality.
1536-Well Microplates
High-throughput screening applications demand microplates that offer the highest possible degree of automation, optimal performance and cost savings. Greiner Bio-One 1536-well microplates deliver on all of these points. In 1997, shortly after the launch of the 384-well microplates, Greiner Bio-One was the first manufacturer to introduce the innovative 1536-well microplate format. The external dimensions were the same as those used in the 96-well and 384-well microplates, but wells increased fourfold from 384 to 1536. Black Dog is pleased to offer a wide range of Greiner Bio-One 1536-well microplates, including clear bottom variants, in clear polystyrene and completely black or white in CELLSTAR® , LUMITRAC™, FLUOTRACT™ or non-binding quality.
More about Greiner Bio-One Microplates and how to choose the best microplate for your application:
User-friendly Standard Microplate Footprint
All Greiner Bio-One microplates have a uniform footprint (Fig. 1) that conforms to recommendations by the American National Standards Institute (ANSI 1-2004). Information on ANSI standards is available at www.slas.org.
Microplate Materials
Polypropylene (PP) and polystyrene (PS) are the standard materials for most microplates. Polystyrene is a highly clear polymer with excellent optical properties, which makes it ideal for precise optical measurements. Polystyrene is also characterized by its ability to bind biomolecules such as proteins; therefore, it is used for manufacturing immunological products and suitable for work with cell cultures. Polypropylene features excellent chemical and thermal stability. Polar molecules such as proteins and DNA bind less to polypropylene versus polystyrene. In addition to PP and PS microplates, we offer Greiner Bio-One microplates with special requirement profiles.
μClear® and UV-Star®
New applications in high-throughput and high-content screening have increased the demand for clear bottom plates, microplates with pigmented walls and thin film bottoms. Clear bottom microplates have traditionally been manufactured using a two-component injection molding  procedure by sticking or welding the components together; however, the development of a completely new and patented processing technique has made it possible for Greiner Bio-One to produce microplates with ultra-thin films, without the use of adhesives or solvents: μClear® and UV-Star® products. This special method eradicates the risk of leaking wells. Stringent controls before and during production guarantee consistent quality. Polarized light is either not depolarized (UV-Star® ) or is only depolarized to a slight degree (μClear® ); the autofluorescence of the microplates is minimized. The 96-well and 384-well μClear® microplates have a film thickness of 190 μm +/- 20 μm; 1536-well microplates transparent bottom  (μClear® ) microplates have a film thickness of 75 μm +/- 10 μm, whereas UV-Star® microplates generally have a film thickness  of 135 μm +/- 10 μm.
When to choose Black and white
White microplates are usually used for luminescence measurements and black microplates for fluorescence measurements. The critical properties in these methods, such as background, autofluorescence or crosstalk are considerably improved by the use of black or white pigmented microplates.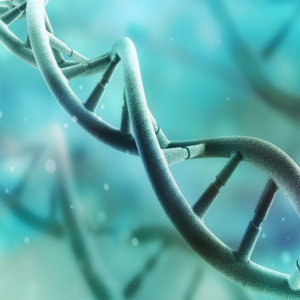 Non-binding Surfaces
Greiner Bio-One non-binding surfaces are characterized by their low binding capacity for biomolecules such as DNA, RNA, peptides and proteins. The repellent property of the non-binding surfaces for biomolecules can be advantageous in biochemical assays by increasing the sensitivity, reducing the background and improving the signal-to-noise ratio. The non-binding surface is achieved through a chemical modification of the resin rather than a resin mixture with potential to leach, improving stability under common assay conditions. They do not degrade during short-term storage.
Microplates for Sample Storage
Choose from a wide range of Greiner Bio-One plates for your sample storage.
Classic: 96-well microplates (PP) are perfect storage plates for active ingredients, biomolecules, and tissue samples.
Screener: 384-well and 1536-well microplates (PP) provide various solutions for applications that require a parallel analysis of many samples. 384-well and 1536-well microplates are largely used in automated processes with high quality standards.
High Performer: microplates made of cycloolefin for acoustic liquid handling use acoustic energy to transfer the smallest amounts of liquid from a storage plate into an assay plate. The method is extremely precise and rapid, reducing costs and preventing cross-contamination.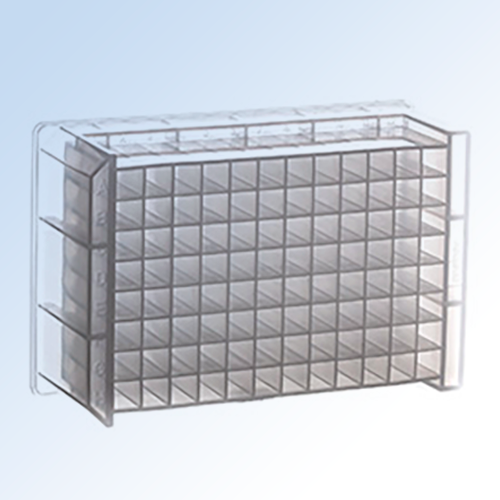 Questions?
For detailed information on the full line of Greiner Bio-One microplates, please visit the manufaturer's website.
Call us at 1.919.602.5988 or submit a quote request. We want to provide you the best tools to advance your research. That's why you can count on us for affordable prices on the highest quality consumables.