Has COVID-19 impacted your research funding?
We're here to support you.
Save Up to $60K on a quality refurbished FLIPRTETRA® fluorescence imaging plate reader. Hurry, limited inventory on some models!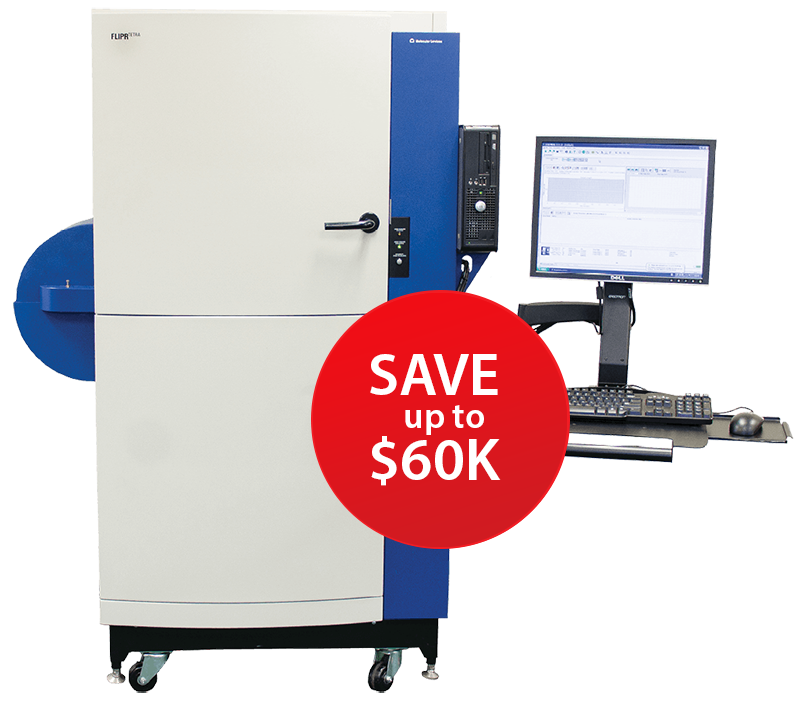 Take advantage of new price reductions on quality refurbished FLIPRTETRA® high-throughput cellular screening systems – Save Up to $60K!
As researches work tirelessly to develop a COVID-19 vaccine and therapeutics, we're eager to do our part in supporting the life science community. We recognize the hardships researchers are experiencing with reduced funding and are offering new discounts on our quality refurbished instrumentation.
Purchase a Black Dog Certified refurbished FLIPRTETRA® instrument at a price ranging from $89,900 to $109,900, depending on  instrument generation, operating system, and automation requirements. This represents up to $60K in savings!
A 90-day warranty is included for customers in the continental US; customers outside the continental US, please inquire to learn more based on your location.
Hurry, limited inventory available for some models!
This opportunity expires 12/31/2020 or while current inventory lasts.
The technology you need at a fraction of the cost of buying new
Ideal for cell-based assays, calcium imaging, monitoring GPCR and ion channels
High-throughput kinetic cellular screening
Reliable, accurate, proven technology
Restored to like-new condition
90-day warranty for customers in the continental US; others inquire about warranty based on location
A choice of models available
Leasing and financing options available
ASK ABOUT FINANCING OPTIONS
Yes! You can afford to purchase a FLIPR® or FLIPRTETRA® fluorescence microplate reader.
Through our financing partners, qualified Black Dog customers can lease a quality refurbished FLIPRTETRA® instrument for an affordable monthly payment. Black Dog does not make a profit on your leasing program. Our goal is to provide you financing options, so that you can afford the tools and technologies you need to advance your research. If you're interested in getting a leasing quote, we will put you in touch with one of our qualified leasing partners.
Click below to download an example of a typical lease payment schedule for a customer in good credit standing.
Your Trusted Lab Partner
Black Dog has supported the life science community for 15 years by providing quality refurbished instruments, complementary consumables, and technical services for pharmaceutical, biotech, and academic labs. Our goal is to help accelerate scientific research and drug discovery by providing quality instrumentation at affordable prices.
We strive to deliver the highest quality service and laboratory products to our customers — and to guarantee honesty, integrity, and respect in our offerings. That's how Black Dog has built its reputation in the industry as a trusted partner.
We'd love to discuss your applications and how we can help to provide the tools and technologies that you need to advance your research. Call us at 1.919.602.5988 or submit our contact form by clicking the link below.